---
Dyersburg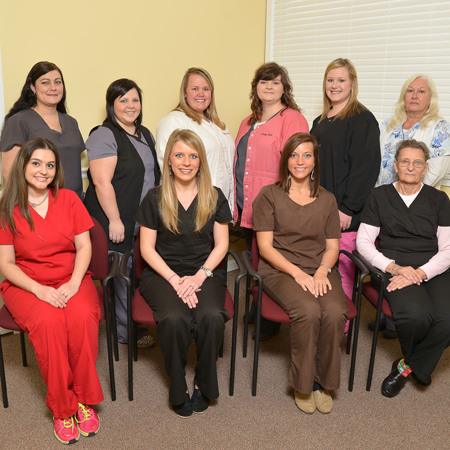 Nursing Staff
Ashley Lovins, LPN
Jessica Adams, LPN
Mable Moore, LPN
Kayla McBroom, LPN
Bethany Sawyers, LPN
Caitlyn Lewis, LPN
Krystal Jackson, LPN
Angela Flatt, LPN
Meagan Davis, LPN
Emily Kimbro, CMA
Lindsey Burns, CMA
Heather Stroup, CMA
Meagan Moore, MA
Stephanie Winters, RT
Ancillary Staff:
Julia Foster
Cathey Bivens
Kelly Hall
Brook Previtt
Wendy Brimm
Judy Olds
---
Halls
Nursing Staff
Tonja Smith, CMA
Carol Bizzle, LPN
Ancillary Staff:
Shelia Roberts
Gail White
---
Ripley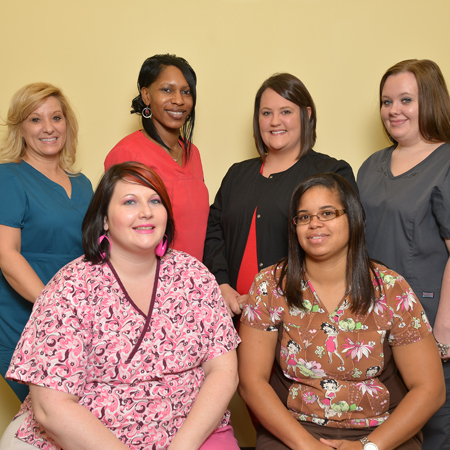 Nursing Staff
Paula Nagy, LPN
Shannon Long, CMA
Ancillary Staff
Diane Campbell
Tina Steedley
Lyra Thurman
---
---
---
Administration
Ashley Lovins, LPN
Clinical Nursing Supervisor
Mrs. Lovins is the clinical nursing supervisor. She is board certified with the Tennessee State Board of Nursing, and multistate licensed. Ashley attained her LPN qualification when she graduated from Tennessee Technical Center Newbern in 2009. Mrs. Lovins has been employed with Dr. Srivastava since 2012. Ashley was born and raised in Dyer County, married since 2009 to husband, Keith, they have one son, Brady. Her hobbies include traveling with family, and spending weekends at Kentucky Lake.
---
Julia Foster
Business Manager
Ms. Foster is the business manager. She graduated with a Bachelor of Science in Business Administration, from the University of Tennessee at Martin in 1983. Ms. Foster has worked for Srivastava since 2004. Currently Ms. Foster resides in Tiptonville and her hobbies include playing the piano.
---
Rhonda Shinn, DBA
Operations Manager
Rhonda Shinn MHA, DBA is the Operations Manager and joined the Care Rite staff in April 2017. Rhonda has over 14 years' experience in healthcare management as an Operations Manager and a Practice Administrator. Rhonda received her Master's in Healthcare Administration from Strayer University and her Doctor of Business Administration with a concentration in Health Care Management from NorthCentral University. Rhonda also holds certifications as a Registered Medical Assistant, a Licensed X-ray Operator and an OSHA Safety Manager. Rhonda was born in Key West Florida and grew up in Arkansas. She and her husband, Charlie, traveled extensively while he was on active duty in the Coast Guard. They moved to Tennessee in 2000 and currently live in Hendersonville with their cat Reagan. In her off time Rhonda enjoys spending time with Charlie, target shooting and driving her Jeep Wrangler.